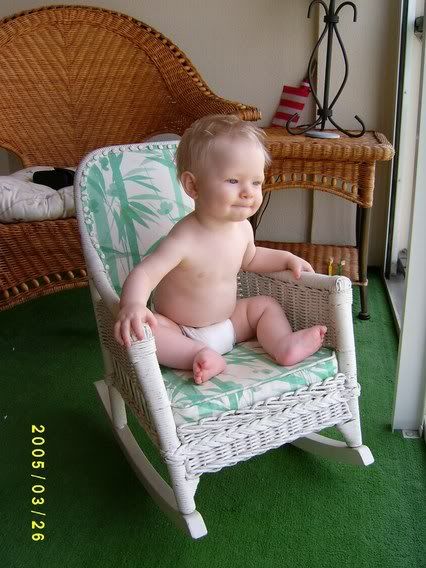 The drive back from St. Pete's yesterday was far better than the trip down there, but we did encounter some traffic for the first 50 miles or so. After that, it was smooth sailing. Gabriel slept most of the way back and still got a decent night's sleep after we got to the apartment at 1:30 on the nose.
Here is a day-by-day account of our trip, starting with Saturday:
Saturday:We went running around the sea wall in the morning, then washed up and headed to the grocery store for dinner supplies. Matt made a delicious dinner of Italian chicken, salad, mashed potatoes, and bread and butter. We went out after that to shop for Gabriel's Easter basket and then headed to the beach. We decided to go to the beach at Pass-A-Grille, since the beach we usually go to in St. Pete was overtaken by spring breakers. We found a fantastic coffee shop/ice creamery/bookstore there called Perk Fiction. It was a little place that had some couches and a really good selection of hard- and soft-cover books, a super friendly guy working there and friendly customers too, and a singer and musician outside the entrance who, along with their little audience, warmly greeted us as we went in. After our snack, we headed down to the water, but Gabe-Luke was too scared of the surf in the dark (his Mommy was a little scared, too), so we decided that it was time to call it a night.
Easter Sunday:We opened cards, and Gabriel opened his Easter "basket" (a sandcastle form), as soon as we woke. We went to 11:30 am mass at The Cathedral of St. Jude the Apostle. It was surprising how much room we had in our pew compared to our cathedral here in Atlanta. Matt ended up spending much of the mass in the back of the church with Gabriel, since we hadn't realized that there was a cry room in the church. The church was very interesting. It had the old-fashioned railing all around the altar area, and above the altar, the roof was domed and adorned with mouldings that looked like lily leaves. We've e-mailed the tour director of the Cathedral to try to find out more about them. Anyway, after mass, we changed our clothes and headed to the beach. What better way to spend Easter than church and the beach?! The wind was blowing something awful, but we had a good time playing in the sand. It's a miracle there's any beach left after the amount Chip ate! After showers for all three of us, we had a wonderful Easter dinner of ham, kielbasa and sauerkraut (those were only for the Ukie), corn on the cob, rolls, and Goiya shiraz to drink. [Wine review: we liked the shiraz, but it was a little too spicy for us. Although we did enjoy it, we probably won't get it again, since there are others we like more.] It was too late to make dessert, and we were too tired, so we put that off for a day.