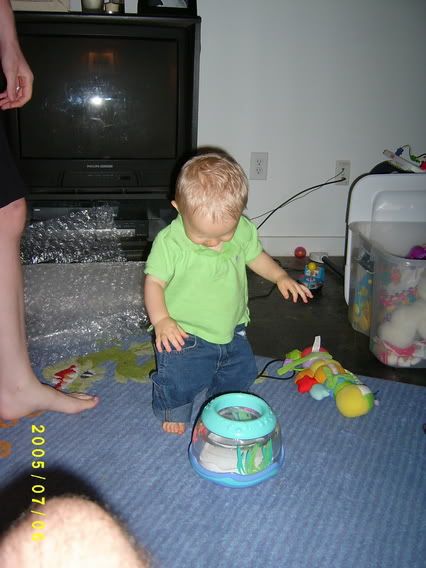 No, not Matt's mom, but the tropical storm, which we think is probably not even a tropical depression any longer. Whatever the storm is being classified as it sure did bring a lot of rain to the Atlanta area. It was just overcast this morning as Matt drove into work, but as the day went on it got thicker and by the time the workday had ended, it was raining. But let's back up....
Matt decided that even though his gorgeous bride seemed to be doing pretty well at home today that she might be able to use a good lunch to sustain her energy through the rest of the day. Matt had to go out to get something to eat anyway, so it wasn't much of a decision. It was off to gather a to-go order at Noodle, our favorite noodle house here in Midtown. Of course Matt didn't tell Patty that he was coming, so lunch was a double surprise. Lunch was really tasty and it hit the spot in a big way. They hadn't eaten there in a quite a while, so it was a nice change.
After taking Matt back to work, Patty and Gabe came home to get some more packing done. Yes, we've started packing the non-essentials up and are making some small bits of progress. We're determined to be ready when the movers arrive this time. The Chipster seems to be doing his best Gandhi impression, not wanting to eat or sleep very much. We think he probably snuck some calories in on us at dinner time (more on that later), but during the day his intake was way down. We can't complain about the corresponding slow-down in his output, though. After pooping away most of the past couple days, Gabriel didn't dirty too many diapers today. Our nostrils salute him.
Patty and Gabe came back up to Marietta to get Matt so they could take in some dinner before Matt's 8:00 scheduled softball game. As luck would have it, the rain started to pick up and they went off to grab some sushi at their friend Clay's favorite sushi joint, Hashiguchi. While the food was good (possibly very authentic, but how would we know?) and the service leaving a great deal to be desired, the eavesdropping there was great! The couple one table over from us was there on their first date through JDate, which is a Jewish internet dating service. Their conversation started out funny: the woman asking for spicy tuna rolls, except not really spicy but mild instead and made by a specific sushi chef. It only got better from there, culminating in the man telling his date that he had also been dating another woman for four months (!!) and the woman using some colorful language to describe why what he was doing was wrong. We thought that the woman was very close to getting up and walking out, which we would have applauded for several reasons, but some smooth talking by the guy saved the date, er, I mean day.
When we finally left the restuarant, it didn't seem to be raining too hard so the Angles were worried that Matt would actually have to play softball. We drove out Lockheed only to find the lights off and only one player in the parking lot, who did confirm that the later games had been canceled. In celebration, ice cream was in order! After a trip to Baskin-Robbins, the three decided to finally head home.
Gabe continues to acquire more and more skills. He is now throwing things by holding them over his head. Sometimes they do go forward, sometimes they just come right down on his noggin. He's geting really good at it, though, and we play catch with him now. We're really impressed with his standing skills. He can now stand unsupported for quite a long time and when he's ready he just crouches down and then sits. He doesn't panic or get upset, and he doesn't usually fall over. He's really, really close to walking, and even took a step a couple of times tonight as he tried to prevent himself from falling forward while we were playing with him. He is amazing!