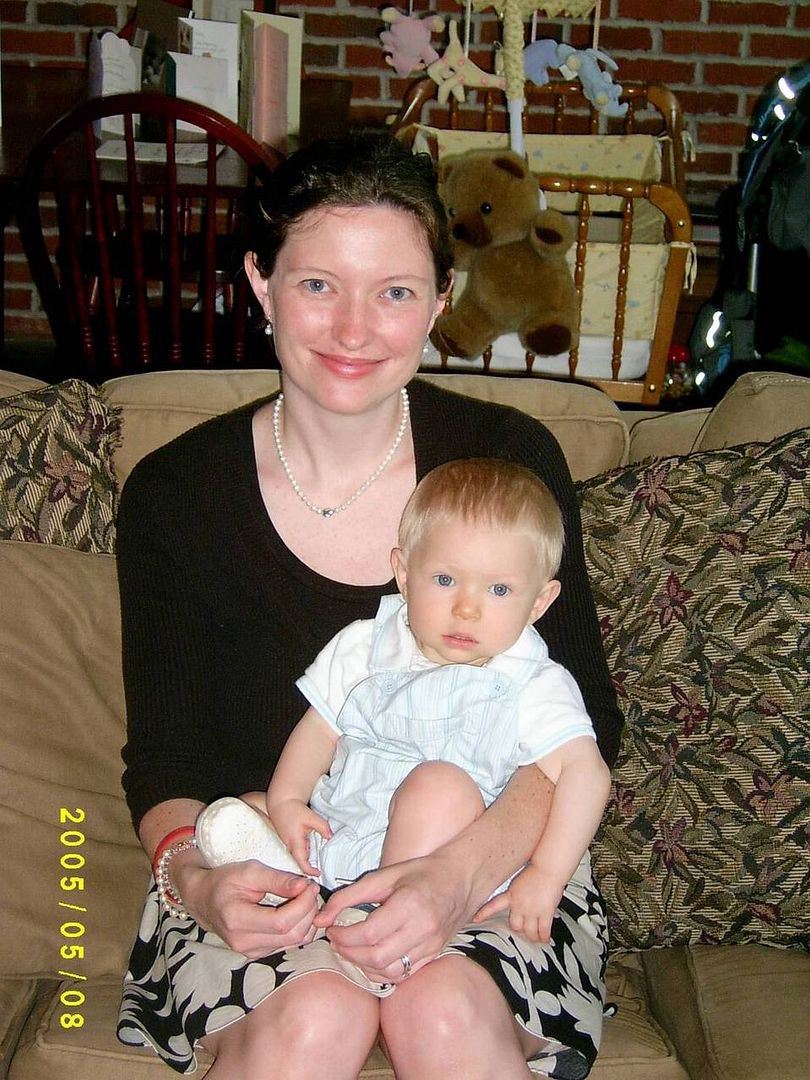 Happy Mother's Day to our moms, grandmas, godmothers, Nancy, Tracey, and all the moms! We had a great time celebrating today. We started out by going to noon mass and stopping at Starbucks on the way back for a special treat - a frappucino for Matthew and a mocha with extra whipped cream and a vanilla almond biscotti for Patricia.
When we got back, there were Mother's Day cards and gifts from Gabriel and his daddy. They gave Patty a great baking sheet and Silpat (which is what every professional chef uses), because she's been having to improvise using brownie pans and a broiler pan. Gabriel even wrote in his own card!
After we had sandwiches (and carrots and a fruit mix for Gabriel) for lunch, we headed up to Allatoona Lake just to hang out by the water. It was in the lower 80s today, so we thought it would be nice to be somewhere refreshing. One website showed that there are hiking and picnic facilities at a place called Riverside Park, so even though there were lots of other parks on the huge lake, we thought this one sounded good for some reason. It is not actually on the lake, but it's on the other side of the huge dam that causes the lake, or technically, reservoir. Fortunately, the web site included GPS coordinates, so we used our GPS receiver to get there and had no problem finding it.
There were lots of families there having picnics. Amazingly, none of them had driven all the way through the parking lot (except the bikers, and they were down by the water) to find a beautiful patch of land above the river that was surrounded by trees on two sides and a rocky overhang behind. We took our blanket, badminton set, diaper bag, and a few other "in-case-ities" and made ourselves at home. It was the most relaxing and beautiful place we've found in a long time. We seem to have a lot of luck finding new amazing places.
Anyway, we played badminton and looked through a couple of real estate guides, at least the pages Gabriel let us have, and when he wasn't reading the real estate guides, Gabriel happily chewed on the keys and tried to eat rocks. He also crawled around until his knees got sore from the rocks, and he practiced standing, too. When it was time to leave, we quickly walked down to the river and then drove to a place where Gabriel and Mommy could toe-test the water (it was cold). Here are some pictures from our fun day: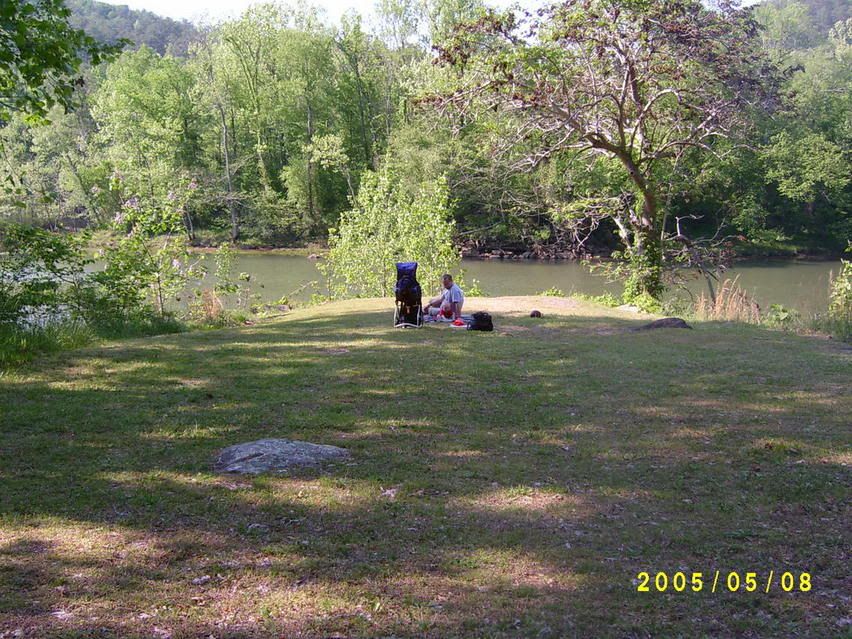 M & G at our site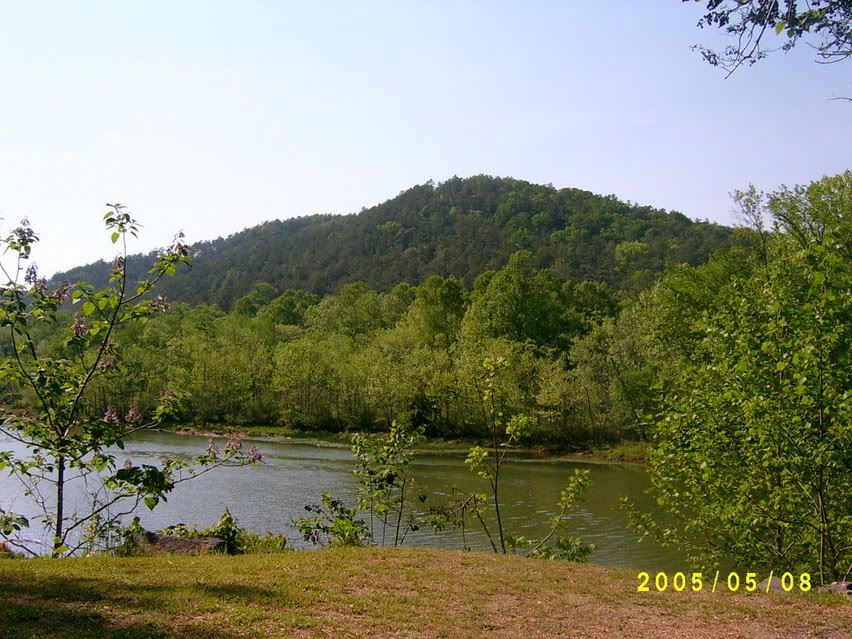 One side of our site - downriver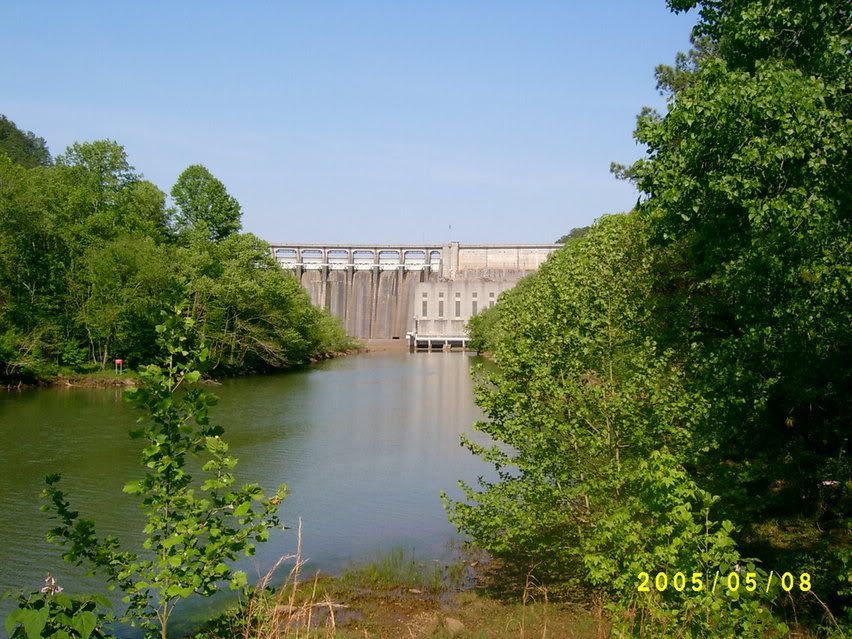 The other side of our site - Allatoona Dam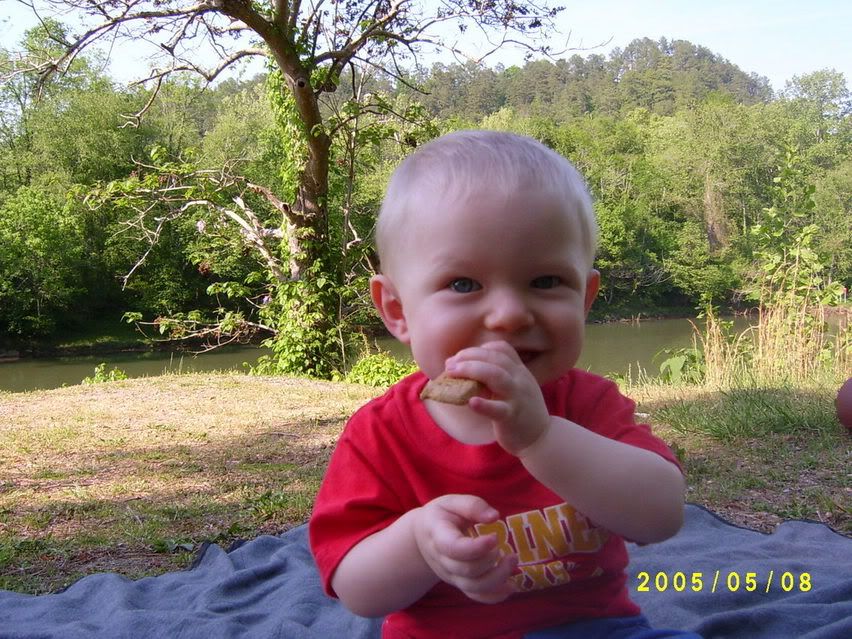 Gabriel chillin' with a cookie (yes, it's organic)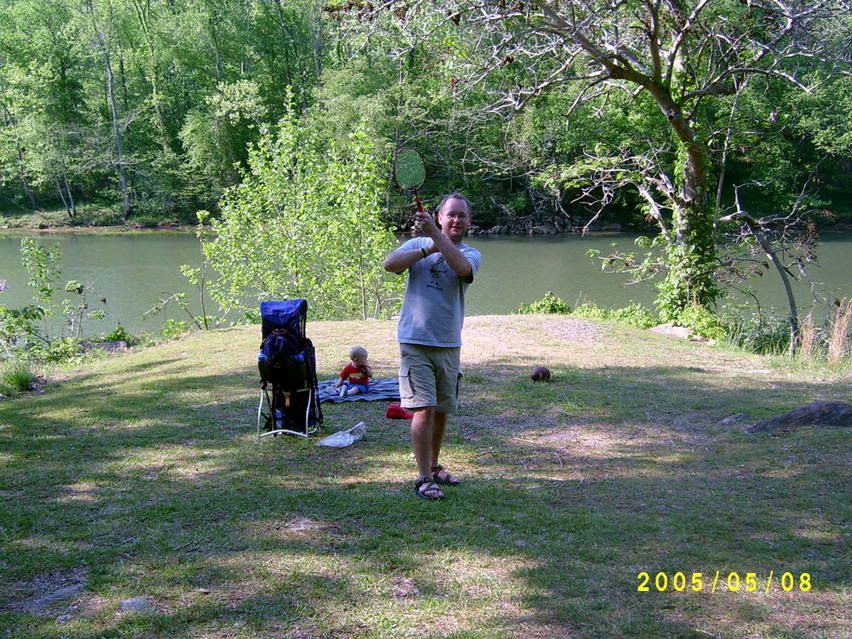 Playing badminton while Gabriel eats the keys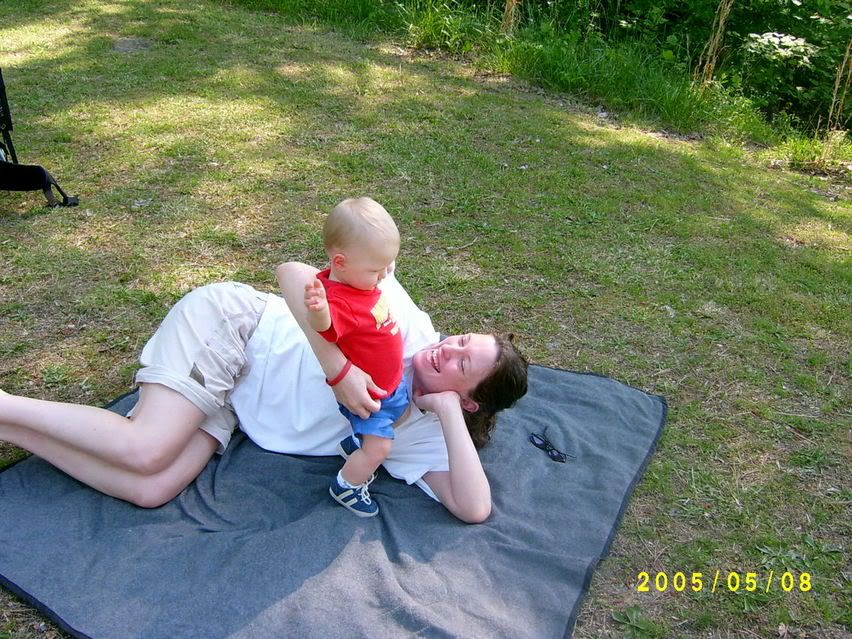 P & G playing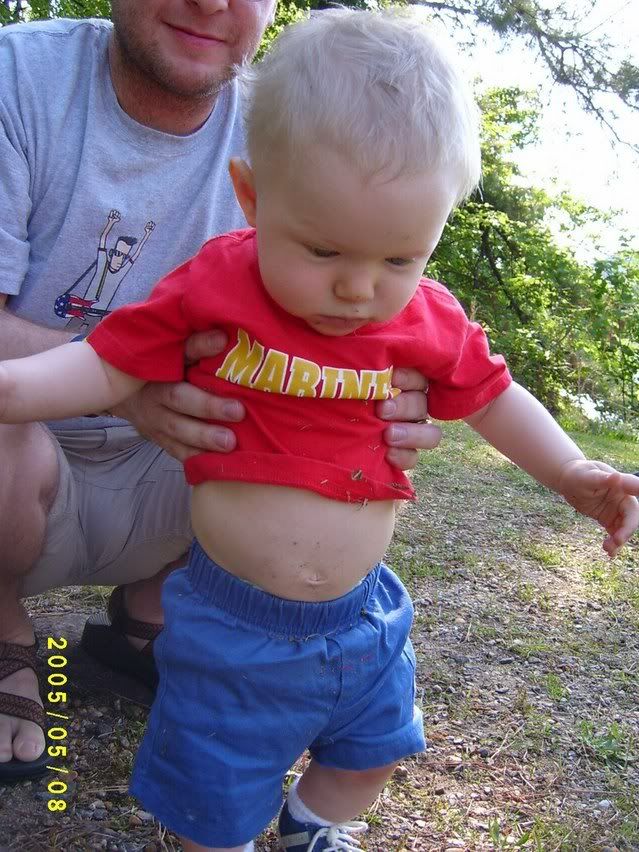 Dirty baby
After we left the park, we drove around for about 2 hours looking at houses in the west Cobb County (yes, that Cobb County, where the science textbooks have special evolution disclaimer stickers)/south Paulding County areas. We found one house that looked like a dream and is only $190,000. It would be $450,000 in Michigan, easily. We are going to see if a tour of this house is in the cards for us. Speaking of the house situation, we are almost ready to list our home. It will probably go on the market in the next week or so. We are waiting for pre-approval for a new mortgage, at which point we can start looking for our new house. There seem to be many options, but they're all out in the boondocks. We're hoping that we can find one in a place that will be built up soon so that the house values go up by the time we're ready to move to our mansion estate.
So we didn't blog yesterday - let's do that now. We had a really fun day yesterday. We went over to Piedmont Park early in the day, and the Race for the Cure was just winding up and Shakespeare Family Day, part of the annual "Shake at the Lake" event, was just getting started. We got there in time to see the arrival of Queen Elizabeth and some really bad recitations by school kids. Actually, there were one or two kids with a lot of talent, and we're sure the others made their parents very proud, BUT... It would have been neat to stick around for the falconer, but we had to get running because we were expecting company later. We had a pretty good run, doing a figure 8 around the park.
Later, Matt's coworker Clay came over for dinner. He was so kind - he brought over some really tasty wine (white for before dinner, red for with), pate and crackers, and some toys for Gabriel that he just loves. They're a couple of cars that roll but are squishy and bitable - his most important criterion. We made salads, half-pound burgers, corn on the cob, and rolls. The rolls and sesame seed hamburger buns were homemade, of course (and would have been even better on the Silpat and baking sheet!). They turned out pretty well - better than store bought, but not much different in taste. After dinner, we walked over to Marble Slab Creamery for some ice cream and "smushins." We had a blast and haven't been that full in a looong time.