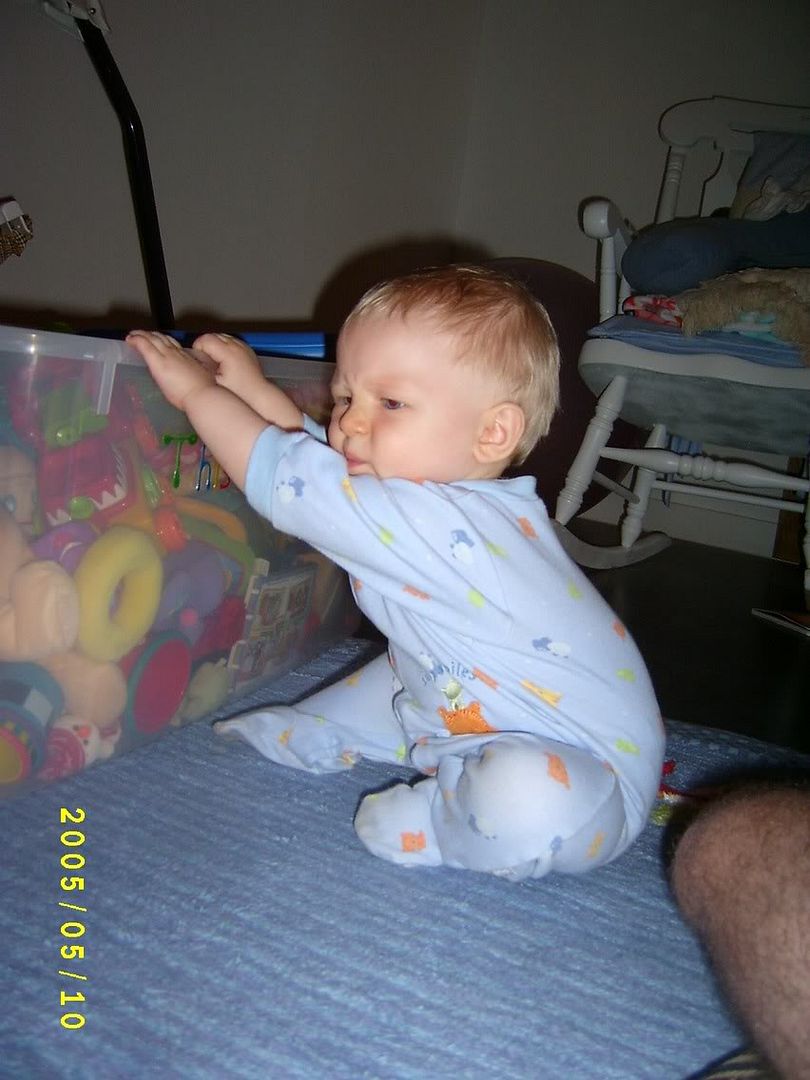 Gabriel stood alone today again, but it was the first time he pulled himself up from standing and let go on his own. He stood for at least 5 good, solid seconds. He had pulled himself up on his toy box, reached in for his caboose, and lifted it over his head with both hands. A few minutes later, he stood again and even turned to look at Mommy while he was standing. That's a complex maneuver!
Later, we put him to bed lying down, and the next thing we knew, he was standing up holding on to the edge of his bed and laughing at us. He's getting pretty advanced in his physical ability. He's also losing his chubby little thighs as a result, and that's bittersweet for us. It's fun to watch him grow into a little boy, but we love those thighs!
Tomorrow, Gabriel is going swimming in a kiddie pool at his friend Zoe's house. After that, we're going to Daddy's softball game. It should be a beautiful and fun day.
Today's Tuesday; time for our
AR7 Watch
Warning: spoilers ahead!
This is the last one!
Well, it's finally over. We think that our picks for the top three teams at the beginning were the top three at the end. Uchenna and Joyce were a surprise for the win, but they probably deserved it the most. This seemed to be about a lot more than money for them, so we're happy for them.
We thought Rob and Amber were done for when they got lost going to the bridge outside the sugar refinery. How do you get lost with 4 other people going to the same place? They are going to have a great life together anyway, so they don't need the money. We're glad that Ron and Kelly didn't win, either, because they didn't work well together and so weren't the best team.
Well, the next race is for families of 4, so it looks like we're going to have to wait for the next one after that, unless it's something crazy like people with animals or transvestites only or something like that.
Now what are we going to do on Tuesday nights?!