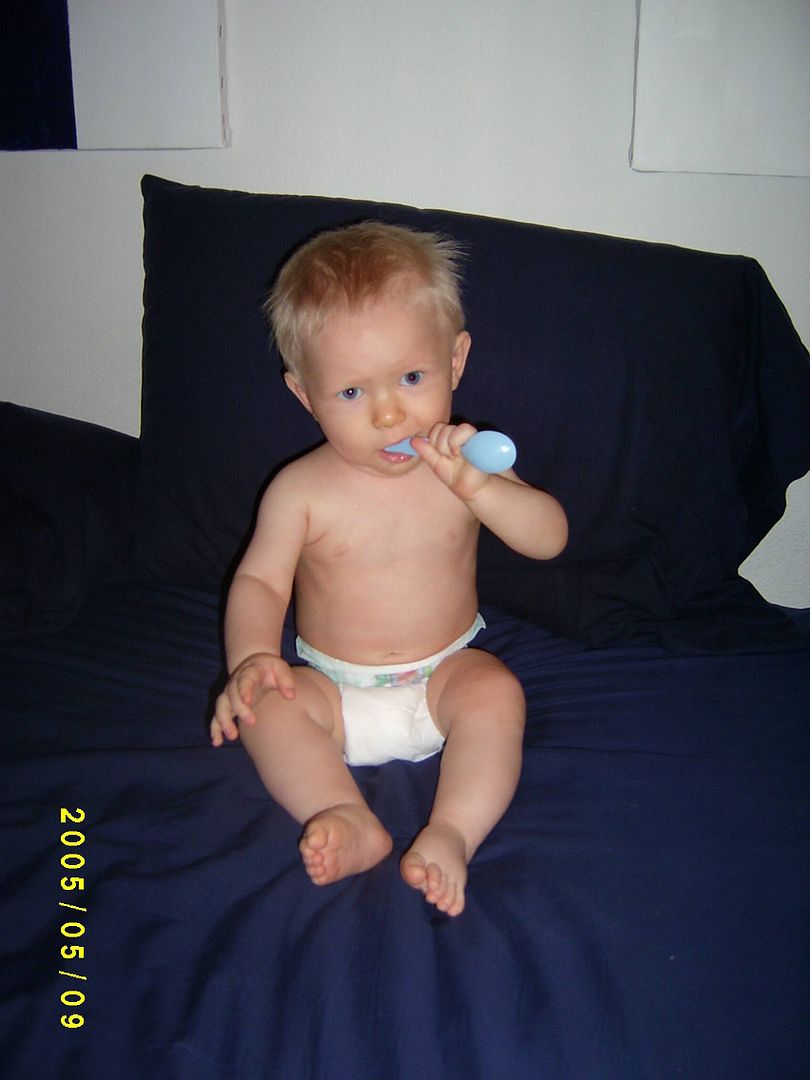 Patty got a very generous Mother's Day gift from her mom and dad today - money to be spent on clothes, since she doesn't quite fit into her pre-wedding summer stuff yet (has it been that long since a non-pregnant summer?!), and it was all old anyway, even then. We went up to the North Georgia Outlets to go shopping after Matt got home from work. Pregnancy really changed this female into someone who actually wants to look like a girl! It all started with that flowery maternity skirt with the bow on the side...
Anyway, we went to Banana Republic and picked out three things: a white flouncy skirt that looks sort of like this one, this top, which looks incredible with the skirt, and these pants, which will look great with a slightly cropped white tank. Yes, two pink items of clothing for someone who once would have eaten live maggots before donning pink pants. We tried to find some pink or white strappy sandals at BCBG/Max Azria and Nine West, but there weren't any. The outlets closed, so we didn't get to go to any other stores. That was a bummer, since there are a million shoe places there.
Of course, we would have been able to go to a few more stores, had we not been in line behind a man and woman and their daughter buying $680 worth of clothes! Not only were they the only other people buying something in the store, but they had bags and bags of clothing. The girl behind the only open cash register took her time to carefully fold each individual item, chatting the entire time and taking just as long as she pleased. We almost passed out when she pointed out that "these t-shirts are 3 for $20, but you have two of them and one of the other kind. Would you like to go pick out a third of these?" She made us wait while he picked out the third shirt, coaching him from behind the counter and eventually walking him over there when he chose the wrong type of shirt again. So the process began again while the minutes ticked away and it got closer to 9:00. How on Earth do you find $680 at an outlet store?! How do you even find $680 worth of clothes that you like? Why do you need that many clothes? They had obviously gone on shopping sprees at Stride Rite and one other store which we can't remember, because they had other bags with them. They had bought about 6 pairs of shoes for their little princess. We'd check for a stolen credit card if we were that clerk.
So we finally got to the counter and had our clothes and credit card down before they had even picked up their bags. Up walks a woman asking for directions to some store or other, so the clerk stopped ringing up our items to get out a map and begin directing the woman. We'd had enough. "Could you please just ring us up before you help anyone else?" Patty suggested, "We're in a huge hurry." This didn't speed up the clerk, but it got rid of the woman. Arrrgh!
Matt made Patty promise to shop for herself and not Gabriel. It was a hard promise to keep, since she has been on a search for shoes for him, and there were so many good baby outlets there. We may have to go back this weekend.
By the time we got back to the apartment, it was after 10:00 pm. Gabriel didn't eat well because he'd nursed before we started the drive back, and then he didn't sleep well, either. He didn't nap well today, either. We think that it's either a new tooth or an upset digestive system from the yogurt he ate today... oh yeah, he had his first real serving (not counting a couple of miniscule bits of cheese here and there and a bite of a Dove bar in a certain house in Manassas) of cow's milk when he ate an apple YoBaby yogurt. The yogurt was really tasty - even Mommy had a couple nibbles. Why don't they make apple-flavored yogurt for adults? Anyhow, the little guy didn't get to sleep until almost 1:30 am, which means that there are going to be three very tired people in Atlanta tomorrow.
Still no word from our Atlanta realtor. We may try to get pre-approval elsewhere so we can officially start our house hunt in Georgia.