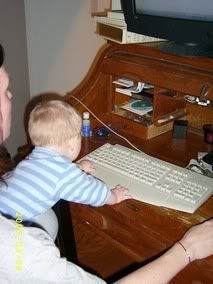 We just added a new picture for our profile. It uses a very sophisticated technique that Matt developed just today. For a small fee, we may divulge the secret.
Above is a picture of Gabriel helping Mommy at the computer. He likes to slap the keyboard, because we won't let him close enough to type.
We got a new book today from Mom K. It's called No Opportunity Wasted by Phil Keoghan, the host of our favorite show, The Amazing Race. He wrote in it, "To Patty, Matt, Gabe - Phil Keoghan THE PHILIMINATOR! Hope to see you soon" How cool is that?!! Mom told him that we want to be on the show and that we are huge fans, all of us including her and Laura. She got to talk with him for a long time and said that he's really nice. Apparently, NOW is a show on the Discovery HD Channel and it looks pretty good.
Laura takes her nursing boards tomorrow and we wish her good luck!