Today was the release of Harry Potter and the Half-Blood Prince, if you haven't heard. It's not big news, we know, and hardly anyone will be reading the book. People have been reserving the book since the beginning of the year, and we just walked in and bought it on our way to Starbucks this morning. They even gave Gabriel some glasses to celebrate the occasion! Shortly after this photo was taken, Cheerios started floating across the room and his stuffed animals came to life...
Today isn't the first day he's exibited special powers, however. Three days ago, he took Mommy's fork while she was eating rice and fed her rice with it! He actually stabbed the rice with the fork and put it in her mouth accurately. He's also been feeding us Cheerios and whatever else he can get in (or on) his hands.
He has been getting into our water bottle/food storage container cabinet in the kitchen for some time now, but instead of throwing everything out onto the floor, he is now starting to actually investigate its contents. Today, he tried to fit a circular lid on a rectangular container: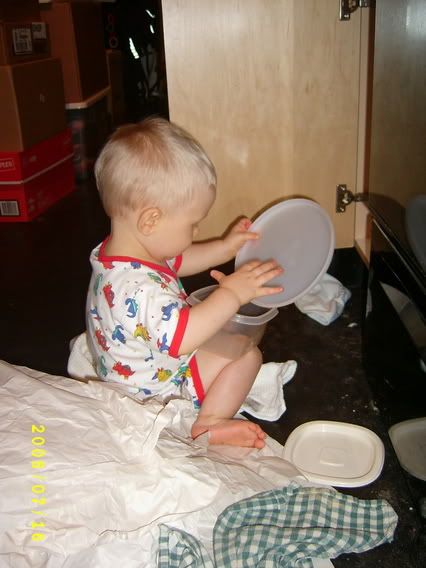 Then he looked around in the cabinet and found the right lid, even though the lids and bottoms weren't even together in the cabinet in first place: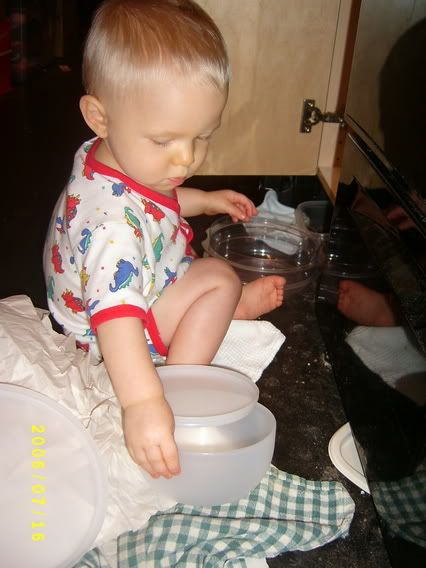 After finding the right lid, he decided to experiment with two lids. He wanted to see which one should go on top: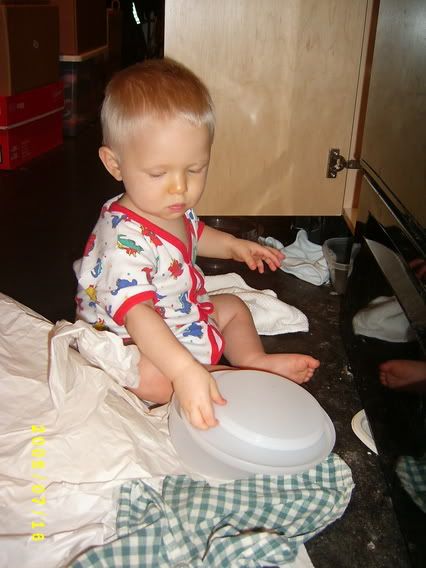 In other news... The more we pack, the more there is to do. There are boxes everywhere, but still there are pictures on the wall and our cabinets are full of dishes and food. We hope that unpacking is easier than packing, but we won't hold our breath. At least we're official with the house; we were formally approved for our mortgage yesterday and we are relieved, to say the least. Now there is the matter of correcting the wrong credit score that they used to calculate our terms. We can't believe how much work we've had to do to get this house. It's especially remarkable, since we really think we were meant to be in that house. Shouldn't things that were "meant to be" be easy?
We've gotten our proofs back from our photo shoot with Linda Wan, who also photographed our wedding. We think that they are absolutely beautiful. The intent of the photo shoot was to capture us as a family in our first home (in Ann Arbor). We think they do just that, and we can't wait to see the actual photos. Here are the proof sheets:
Proof Sheet 1