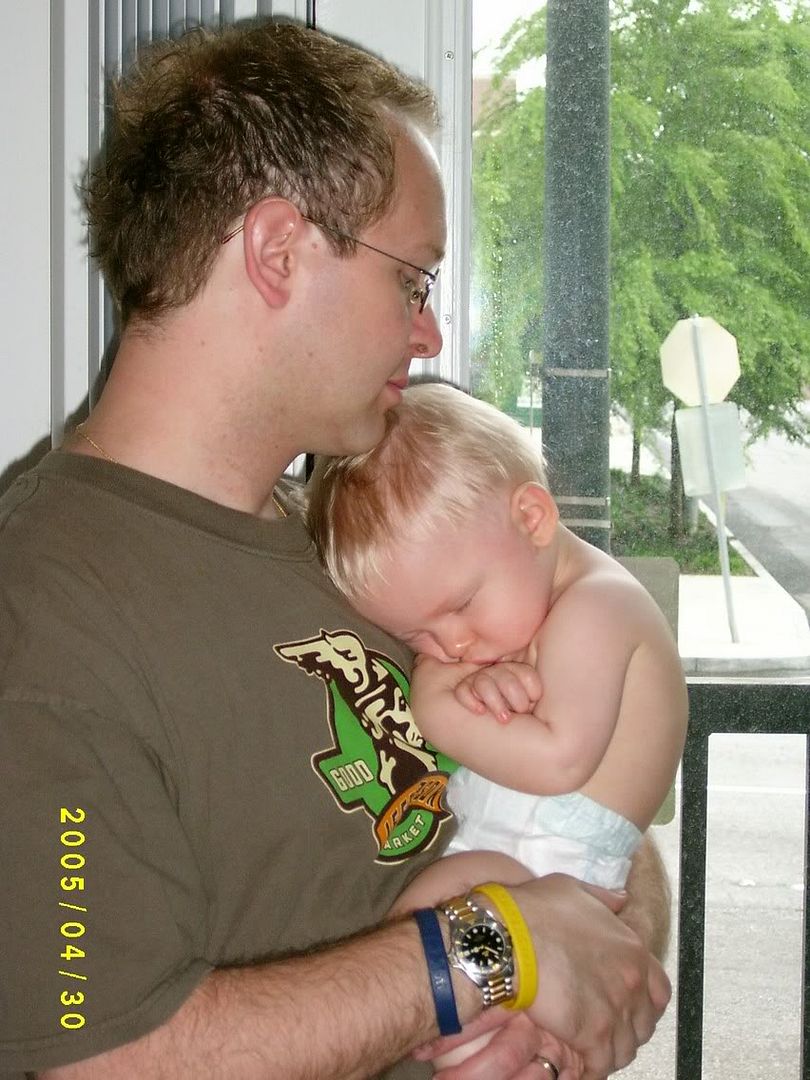 Mom A flew down to Atlanta on Saturday to stay with us for a day before Grandma and Grandpa got here on Sunday. Her flight got in about 2 hours late, because storms here caused delays for the plane to get from Atlanta to Toledo and then again from TOL to ATL. Finally, after spending the entire morning on the plane, she got here safe and sound. Gabriel seemed to remember her right away and was excited to see her. We went to dinner at Figo Pasta, an Italian place with fantastic food and quick service. Since Mom had never had gelato (gasp!), we took her to Paolo's (check out the webcam if it's working) in the Virginia-Highlands neighborhood for dessert to go. Paolo wasn't there that day, but he's quite a character. But that's a different post.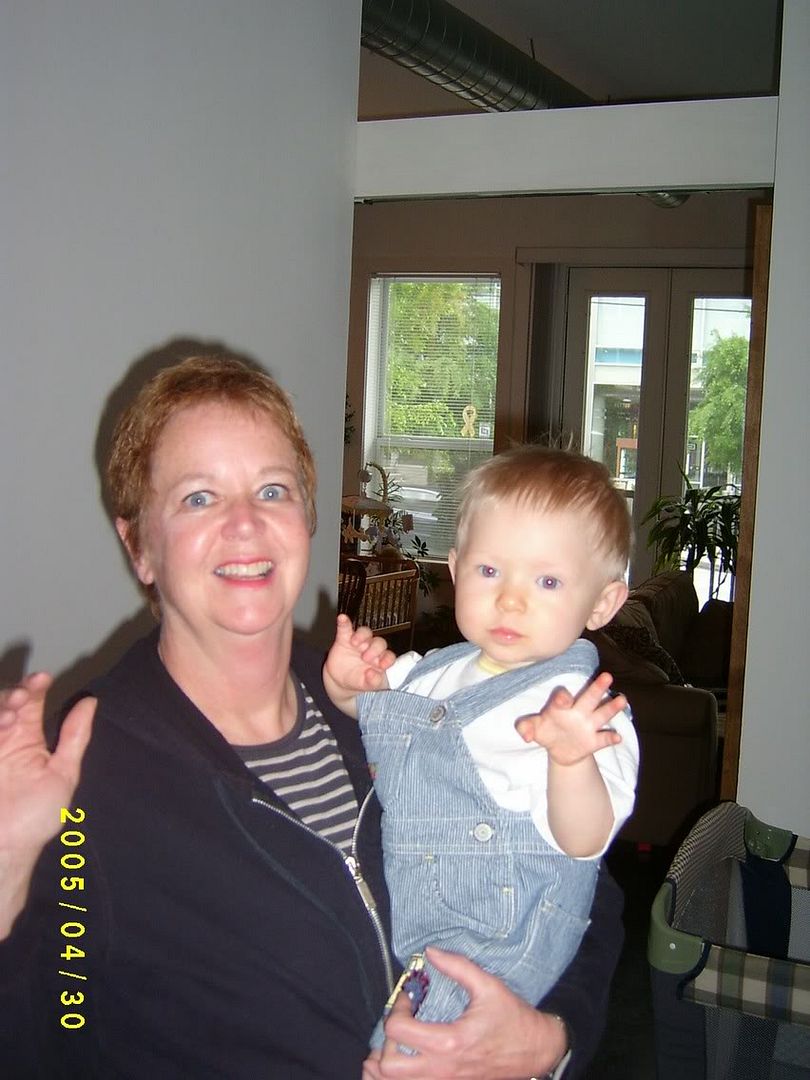 When we got back, Patty started a ciabatta and the two of us went out on the town. Since it was rainy and we were stuffed to the gills with food, we didn't go to Baraonda, our favorite restaurant, like we'd originally planned. Instead, we focused on the drinking. We went across the street to Midcity Cafe, or as we once thought, DCI Cafe, since the "Mi" and "ty" aren't too visible on the sign. It's the best place to find the earth's snobbiest people who have no reason to be. Every time we're there, all the conversation we hear revolves around whom they know and where the happening places are and how [insert place here] is so dead. We actually heard a guy say Saturday night that there's so little to do in Midtown that it's exhausting, poor guy. We like it because it's cute, it has drinks, and it's across the street. After a chocotini (M) and raspberry vodka spritzer (P), we headed over to a new bar a couple blocks over called McCray's 6th Street Tavern. It looked like an older, get-together-with-your-friends-and-drink-away-your-divorce-woes crowd (although the review in the link makes it sound great - maybe we'll have to give it a chance next time), so we turned around and went back to Toast, our friendly but upscale neighborhood restaurant. It's a nice place, small and not too loud, with The Food Network playing behind the bar and both Alton Brown and French Laundry cookbooks on the counter. M had a Manhattan, and P had a Jameson's on the rocks and a Kahlua/white chocolate/heavy cream concoction. We were only gone close to 2 hours, but it was a really nice time. We almost didn't know what to say without a little boy to keep our attention every second, but we happily managed.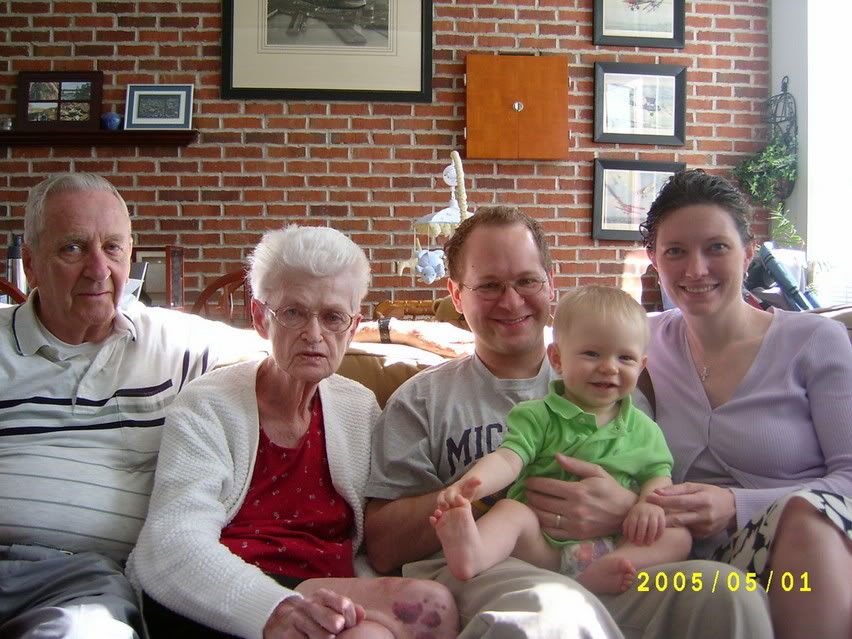 On Sunday, G&G Kranz met us at a Cracker Barrel south of the city. Matt drove their car through the most dangerous part of their drive, downtown Atlanta, and we met back at the apartment. We had a nice visit and had a great supper. We got food from Cedars Mediterranean for us and St. Charles Deli for everyone else. Grandpa and Matt went up to Marietta to check into the hotel, while Patty, Grandma, Mom, and Gabriel took a nice walk around the apartment complex and over to Tech Plaza. It was a little cool, but it felt nice in the sun. Grandma and Grandpa were excited to see Gabe Luke, and we could tell that he was happy to see them, too. It was nice to have 4 generations of Kranz blood together at once and funny how strong the family resemblance is.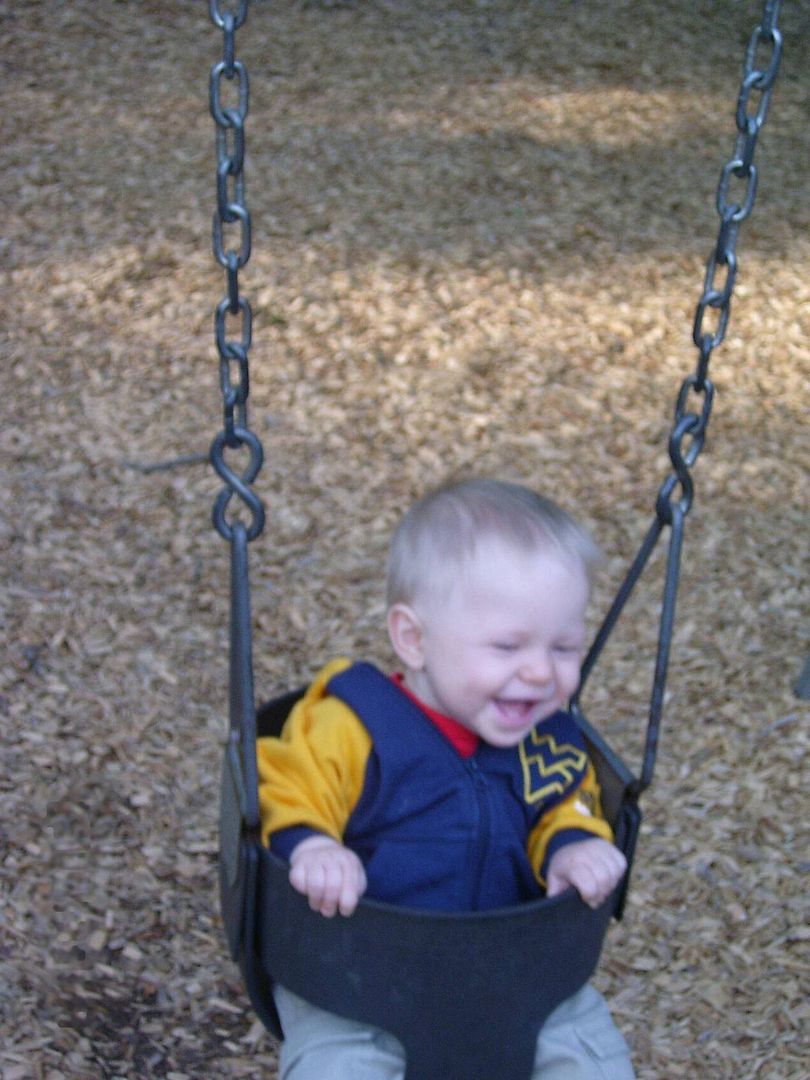 Monday, we were back to a 3-person family. We met up at the Botanical Garden after work, but they're closed on Mondays (would have been good to know before the 2 mile walk!), so we went to nearby McClatchy Park instead. Gabriel had fun swinging in a baby swing, sliding down the slide, and practicing walking (with Daddy's help, of course).
Today, we had a brainstorm. We'd suspected for a while that Gabriel doesn't sleep well because he is uncomfortable. Yesterday, we'd noticed that it takes very little weight to feel the board under his playard mattress, so he is essentially sleeping on a board. Hmmm... We know that the playards aren't supposed to be permanent beds, but we thought that we could save money by using it that way. Anyway, we couldn't really test our theory, because what else would we put in there? Babies aren't supposed to have pillows, and he doesn't like to sleep with us, nor do we want him to get into that habit. Well, today, we noticed that if we turn them sideways, two pillows fill up his playard nicely. There's a little gap right in the middle, but it's nothing that seems to be a safety hazard. We let him take his naps in there today, and now he is sleeping that way, and it's like a miracle how well he has seemed to sleep today. He fussed for just a few minutes the first time, probably from habit, but after that, he's been really good about falling asleep. In fact, tonight he played in there quietly until he fell asleep like he should have been doing all along. After his naps, he's woken up with a big smile and lots of energy. It's too soon to get too excited, but we'll see how this works in the next couple of days. We are going crib shopping on Friday anyway.
We hear that Grandma, Grandpa, and Mom made it back to Maumee safely this afternoon. Apparently, no one was thrown out of the car, so that's a good sign. G&G like their new place, so again, phew! Also, Jack just e-mailed us to say that he's doing well despite the fact that the pressure is getting to some of the guys and that he's getting out of the camp a couple of times a week and still working out the other days. He intends to get in better shape for his return home but that it would be rude (ha ha) not to eat all the goodies that he's gotten recently from home. He dreams about being home almost every night and tries not to get too upset when he wakes up in Iraq. He says that his morale is good, so we're happy about that. Any number of years ago, we would have said goodbye in February and hello again in September, so we're really privileged to be in so much contact with him.