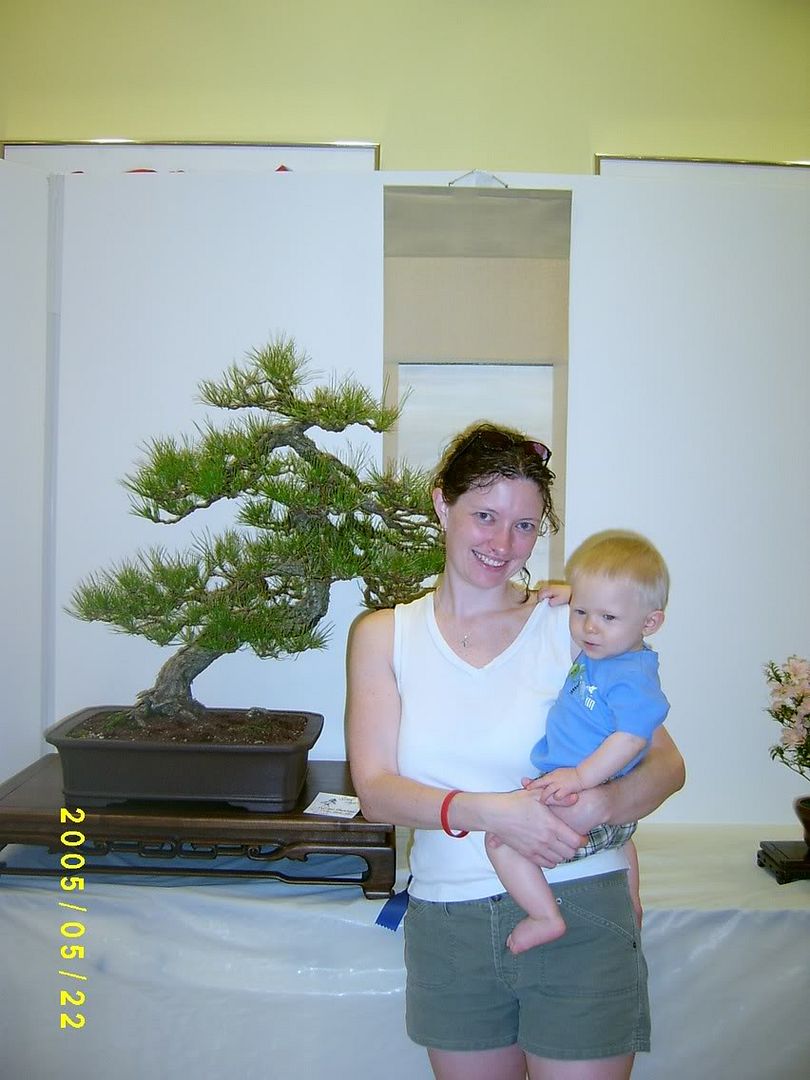 We started out today by walking to the Botanical Garden to see the bonsai show (check out the shorts that were small even before pregnancy!). There were a lot of beautiful bonsai there, but we aren't going to buy another one until we have a house and can keep it outside. We also stopped by the pond to see the bullfrogs and the Locomotion exhibit to watch the trains. Gabriel was enthralled. When he sat on Mommy's shoulders, he could see the trains on the high tracks.
Patty had to tutor, so we walked back to the apartment. It was a total of about 5 miles. Somehow, it was uphill both ways. We couldn't figure that out.
For dinner, we had chicken curry and rice with fish sauce again, because we had leftover curry sauce. We threw the sauce and a lot of onion in the wok, added the chicken, and cut a couple of rat s*!% peppers for the fish sauce. It was a pretty spicy dinner. In fact, we had to practice some pretty extreme kitchen sanitary rules, because if those peppers come into contact with anything, even a tiny bit of the oil can burn your lip or eye. Gabriel had eggplant with pear juice (which he didn't eat), melon with wheat cereal (which he liked), chicken, and carrots for dinner. He was pretty cranky when we tried to get him to eat the eggplant, so by the time he got to the carrots, he was pretty fed up (with us). Matt finally gave up on the meal and held him until he drifted off to sleep.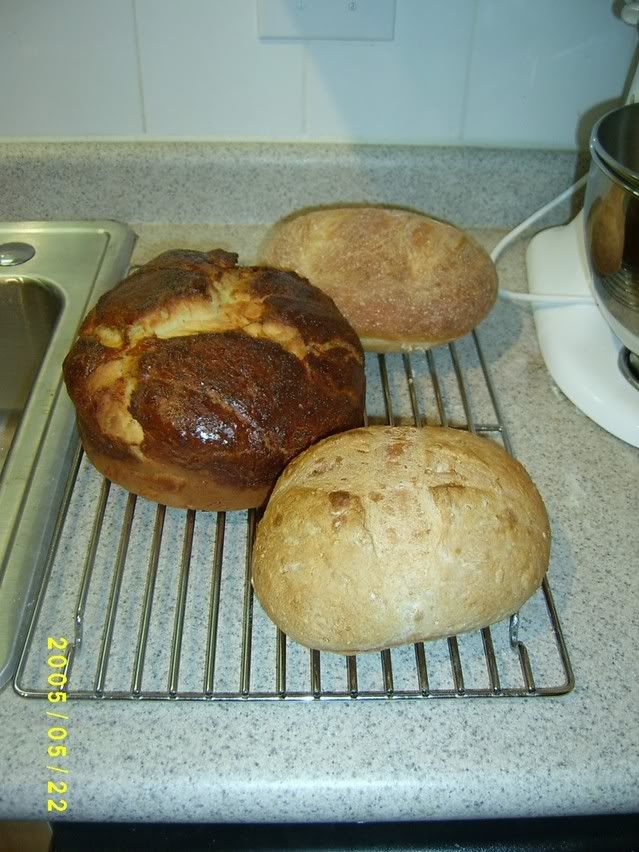 In a happy coicidence, on Trinity Sunday, we made a trinity of bread. From the front: nutty hearth bread with flax, organic cracked wheat, sunflower seeds, and sesame seeds; braided challah with poppy seeds; and basic hearth bread. The nutty bread was sort of a take-off we invented, and the challah rose so much that the braid sort of came out, but they all look really good, we think. Each has its own distinct smell. The challah smells like eggs, the nutty bread smells nutty (duh!), and the other hearth bread smells like flour and yeast. We are going to turn doughy with all the bread we have to eat!
Yesterday, while Patty was at the gym, Matt found Gabriel in his toy box. He must have had a hard time reaching something and decided to crawl in. He's getting more and more adventurous with the standing, climbing, and cruising.