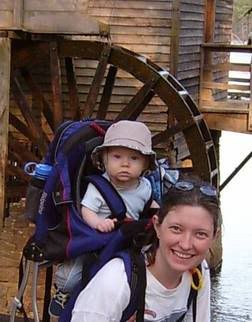 Today, we decided to play hookie from all responsibility and headed to Stone Mountain for a day of, well, whatever struck our fancy. On the way, we went through the drive-through at Krispy Kreme for a donut. We were at the red light outside the store and it looked so good that we couldn't resist. Anyway, there is so much to do at Stone Mountain that even though we'd just been there 8 days ago, we found a lot of new things to do. It's amazing that you can go to a place over and over again and keep finding new things that you like about it.
The first time we visited Stone Mountain, we thought that it was a tribute to the Confederacy. We've learned that all the Old South stuff is not actually the main point of the park, even though a lot of people identify it that way. It's a place where there is a lot to learn about history, ecology, geology, and so on. The park was originally a granite quarry and was bought by the state of Georgia as a nature preserve.
We found the old rock quarry today. We would have found it a couple of years ago if we'd ever bothered to read the map they give us at the gate. It was the place where granite was mined and sent off to places all over the continent. We learned that some of the granite from Stone Mountain is in West Quad and its surrounding buildings at U of M, as well as in the Ann Arbor post office! Those years that we sat down in the MUG with our Subway cramming for tests, or mailed a package, or the time when Matt wiped out on his rollerblades outside the post office, we never knew we were surrounded by the rock from the place we'd visit as a family years later.
We stopped for the better part of an hour to feed Gabriel and have some snack bars at a picnic table overlooking an old grist mill between a stream and the lake. It could hardly have been more picturesque.
We tried unsuccessfully to locate several geocaches. The first was in an area that looked like hiking through it would be destructive to fragile plant life, so we decided to forgo that one. We hiked through woods for a while, only to realize that the second cache was on an island just 100 feet from the edge of shore. We didn't want to rent a kayak with Gabriel to go out there, so we decided that we should try another one. We made it to the third spot and looked until it started to get dark, but since we had a lot of hiking yet to do, we finally moved on. We did find a beautiful spot with a bench under tree cover next to a stream, though. It would have been the perfect camping spot.
We decided to take an old Cherokee trail over the mountain. As we started the trail, a very big fox accidentally began to follow us until we spotted each other and he decided to wait until later to climb the mountain. Not too long after that, we made one of the most breathtaking discoveries we've ever made hiking. There was a place where the mountain cleared out and became steep granite. Just as we got there, the view opened up to miles and miles of skyline. The sun had just set, and the sky was horizontal streaks of varying shades of red. We could see the Atlanta skyline 15 miles in the distance. The moon was high in the sky, and the stars were starting to be visible. Patty's shifted center of gravity (Gabriel in the carrier) and quickly-tiring legs combined to bring back her fear of heights, and as soon as she saw the view, she bent down and grabbed the ground before getting back up and hurrying across the mountain for safer ground. We had to move quickly anyway, since it gets very dark up there at night as we learned last weekend. We have a flashlight that has both red and white lights, so we could use the white light while in unfamiliar territory and red when we got to the wide trail that most people use to get up and down the mountain. Red light preserves your night vision, but while light is better when you really need a good view of where you're walking.
Our GPS unit saved the day once again, when we needed to find the "walk-up" trail to get back to the Jeep. It wasn't marked by signs or blazes that we could see at night, but we had it marked on our GPS. We had initially passed the trail before realizing that we were descending; we knew that the trails crossed at the highest point of the Cherokee trail. Sure enough, our GPS pointed us back to the junction and we were back at the cars minutes later. It was fun to imagine the Cherokees passing over the same rock and along the same ridges that we were. We even had a papoose to make it a more genuine experience!
As usual, Gabriel was a trooper all day. He seemed to love being outside in his carrier for six hours and fell asleep just when the Cherokee trail got scary. He missed all the drama but woke up just in time for the drive back to Midtown, happy as ever.